Learn what radio hosts and reporters say about Secret Walks & Staircases in Santa Cruz
Feature Article -— Summer 2021 Learn the back story about the birth of the first walking guide to Santa Cruz, Secret Walks & Staircases in Santa Cruz. "Stepping Tome," by Steve Palopoli in Explore Santa Cruz 2021, a Guide for Visitors and Locals. [Bulger's] "proud of the 28 walks meticulously documented with photos, maps and a complete list of turns in the book—some of which even most locals won't have walked before." Exploring Santa Cruz 2021 is available for free in many retail outlets around Santa Cruz County.
Newspaper Review -— December 7, 2020 The Santa Cruz Sentinel newspaper featured Secret Walks & Staircases in Santa Cruz. The complete article by Sentinel reporter Melissa Hartman can be read in the Sentinel archives. Here is just a preview.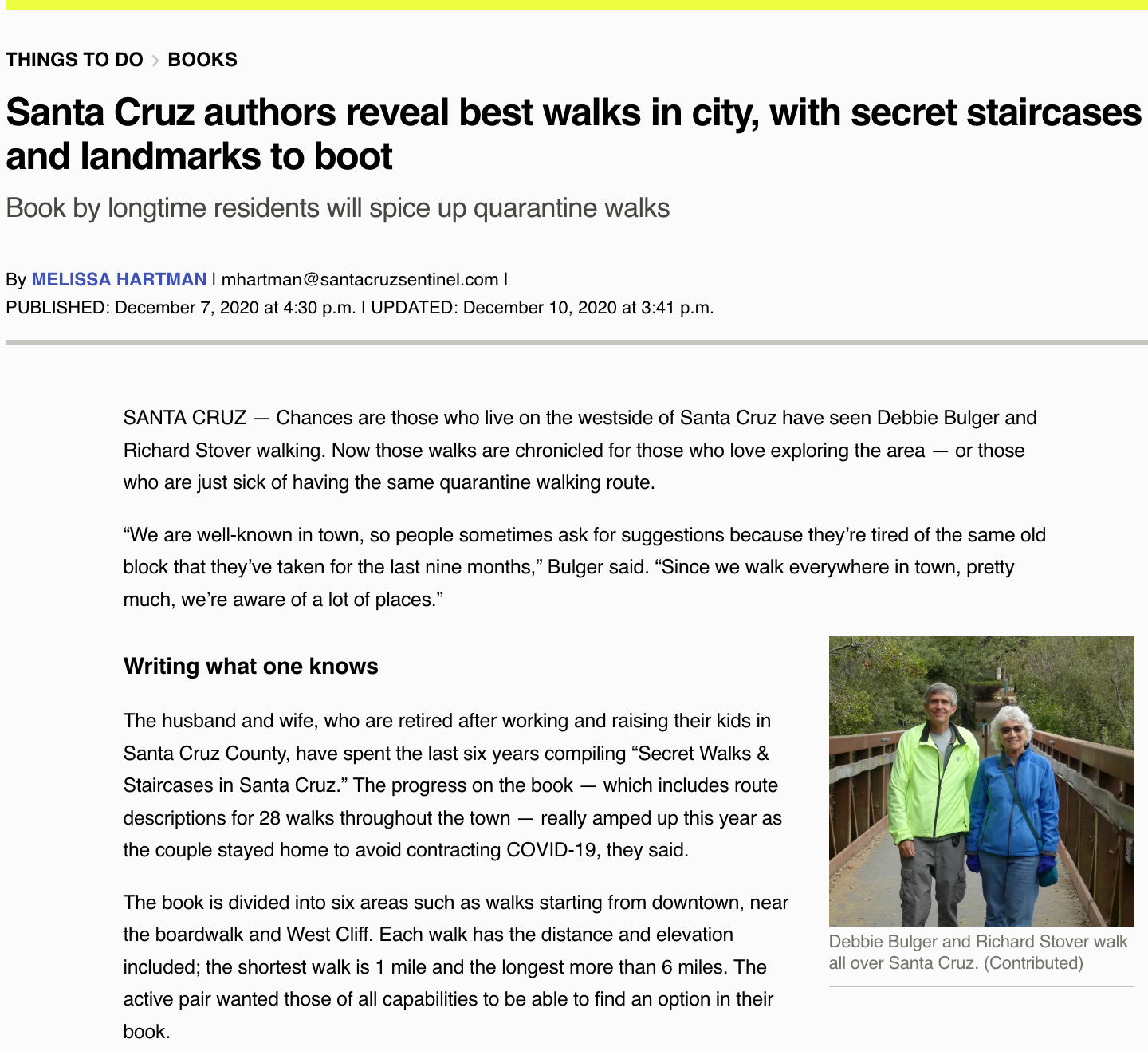 Radio Interview — January 4, 2021 Local radio KSQD's Mathilde Rand interviewed Debbie and Richard on her program Exploring Santa Cruz.

Listen to the interview (about 25 minutes) on KSQD and learn some of the back story to the making of Secret Walks & Staircases in Santa Cruz.
Commentator review — December 9, 2020 Local commentator Bruce Bratton wrote, "Debbie Bulger and Richard Stover created a great book for real Santa Cruzans, and just as "necessary", it's a super book for visitors to seek and find the many, many nearly-hidden walkable treasures we have at our doorsteps." Find the complete review in his online blog.
[whohit]In the News[/whohit].